The best business casual for women in 2023 is a modern and stylish look that is professional and polished. Gone are the days of stuffy and boring office attire. Today's businesswoman demands clothing that is fashionable, yet still appropriate for the workplace. Here in this blog, you know about some of the key trends to keep an eye out for when shopping for your new business casual wardrobe.
What Is Business Casual?
Business casual is a dress code that is typically used in the office or other professional settings. Business casual for women can include clothing such as slacks, skirts, blouses, and dresses that are not too revealing or overly casual. The key to dressing business casual is to look put-together and professional while still being comfortable and approachable.
The Best Fabrics For Business Casual Attire
There's no one-size-fits-all answer to the question of what fabrics are best for business casual attire, as the right choice will vary depending on the climate you're dressing for and the level of formality you're aiming for. In general, though, natural fabrics like cotton and linen are always a good bet, as they're breathable and easy to care for. If you're dressing for warmer weather, lightweight options like silk and rayon can be nice choices, while wool or cashmere may be more appropriate for cooler temperatures.
When it comes to patterns, it's usually best to keep things fairly simple and subdued – think solids or small prints rather than anything too bold or eye-catching. As far as colors go, again, it's best to err on the side of conservatism; dark hues like navy,
black, and charcoal are always safe bets. And finally, make sure your fabrics are wrinkle-resistant – nothing ruins the look of an otherwise great outfit quite like wrinkles!
The Best Colors For Business Casual Attire
Black, navy, and grey are always safe choices. If you want to add a pop of color, try a deep jewel tone like emerald or ruby. Pastels can also be business casual, as long as they are not too juvenile – think soft peach or lavender. Wearing all one color is perfectly fine, but if you want to mix and match, make sure the colors complement each other. For example, pair navy with light pink or green.
The Best Styles For Business Casual Attire
There are a few key pieces that are essential for nailing the perfect business casual look for women. A tailored blazer is a must-have; it will instantly make any outfit look more polished and professional. A pair of well-fitting trousers or a skirt in a neutral hue is another essential; both can be easily dressed up or down depending on the occasion. Finally, a pair of comfortable yet stylish shoes are a necessity; opt for loafers, pumps, or ballet flats.
With these core pieces in mind, here are a few of our favorite business casual looks for women:
1- A Blazer With Trousers Or a Skirt
This is a classic business casual look that can be easily dressed up or down depending on the occasion. Simply swap out your heels for flats and add some jewelry for a more evening-appropriate look.
2 –  A Sweater With Trousers Or a Skirt
 This is the perfect fall/winter business casual look. Layer a cozy sweater over your shirt and top it off with a jacket or blazer for extra warmth.
3- Office Skirt 
Because business skirts are modern and elegant, we must balance their formality with more relaxed elements. We should not shorten the text because it is unsuitable for a professional setting. Instead, try a pencil skirt with a tucked-in casual shirt or a flared skirt with a well-fitting plain t-shirt. If you prefer sophistication, a skirt suit is an option. If your dress code allows it and you want to look stylish, you can choose a mini-skirt suit. If you want to keep it casual, avoid wearing heels and instead opt for ballerinas or loafers.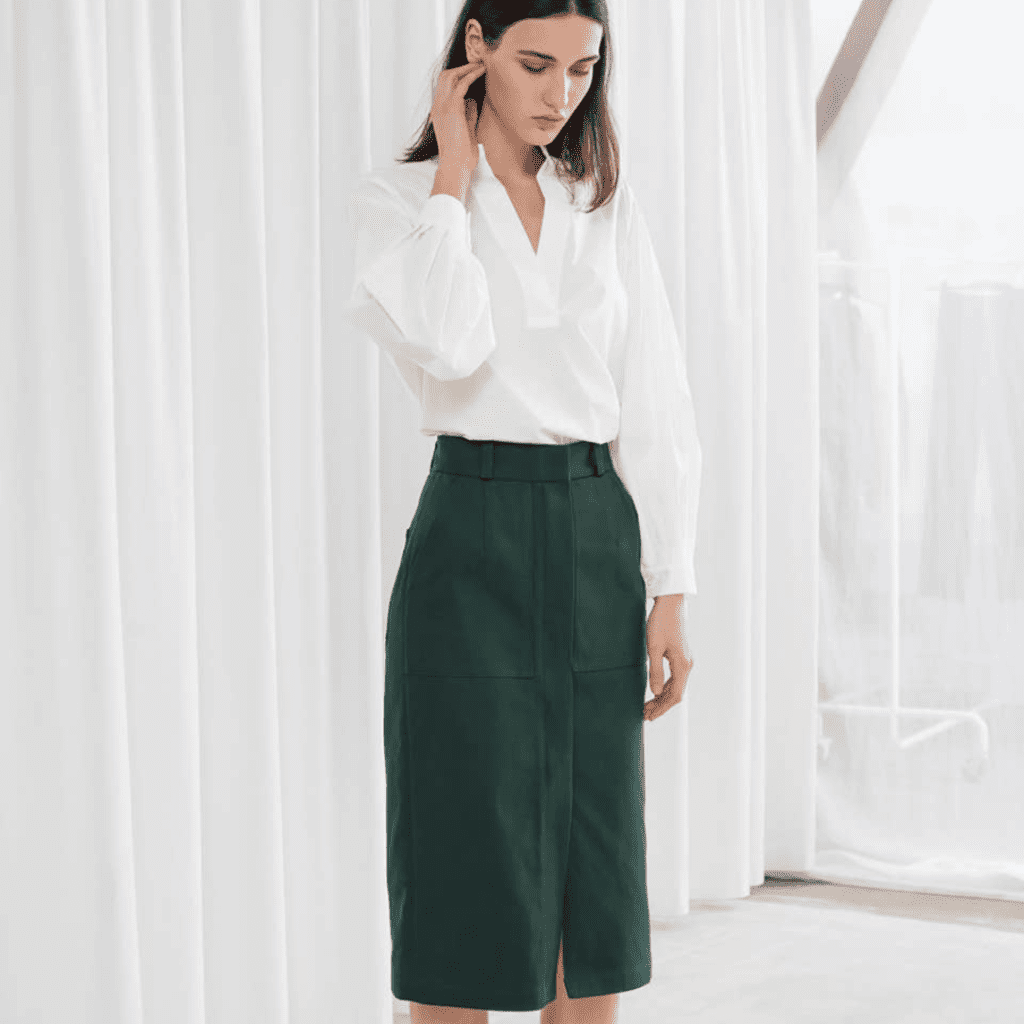 4- Business Casual Suit For Office
The suit is unquestionably the most formal item in the collection of business-casual wardrobe staples, but don't think you can't wear it to work in a business casual setting. Choose a suit in a vibrant pastel color that can be easily paired with a plain white t-shirt and ballerinas for a business casual interview. We recommend wearing a linen suit on warmer days because the fabric's light weight allows your skin to breathe, which is beneficial on stressful days. If your workplace allows it, go for the stylish leather sneaker look and pair it with a floral or checked women's pantsuit.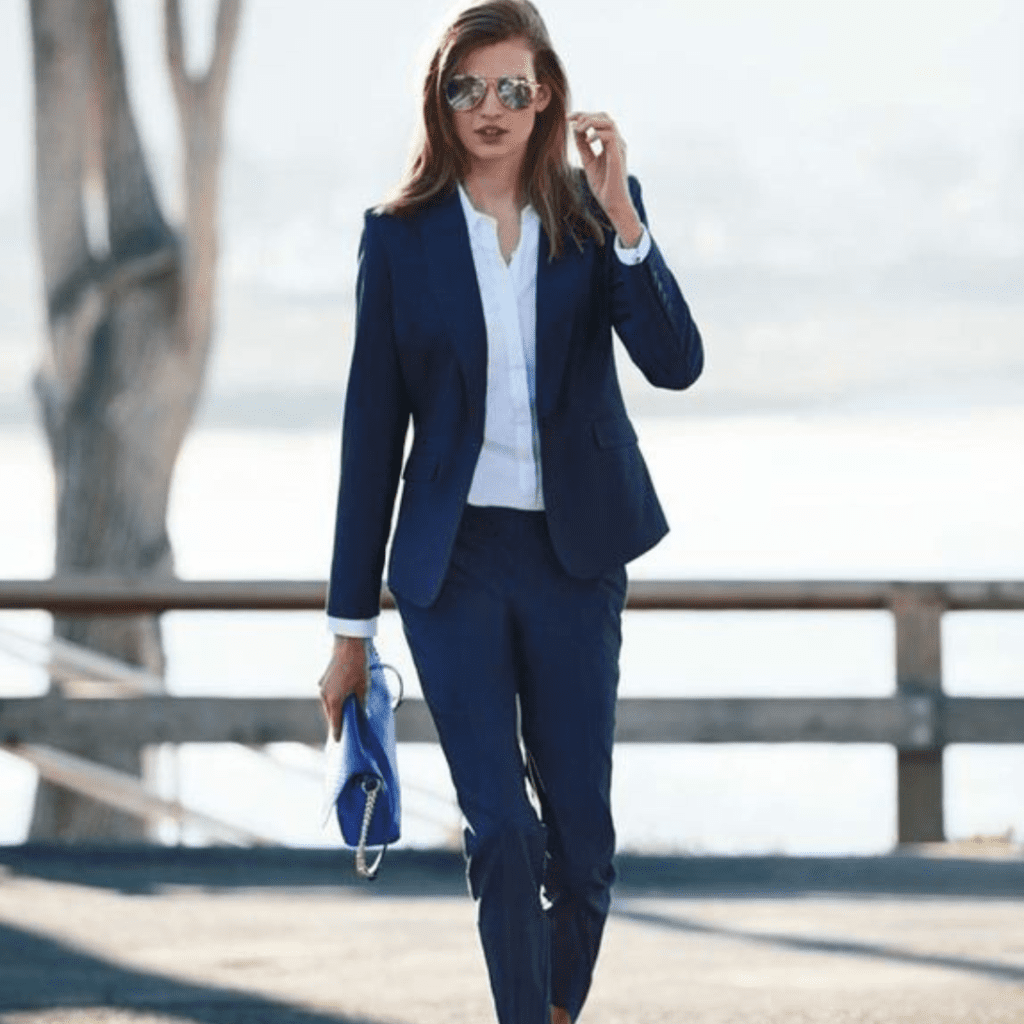 5- Business Casual shirt for the office
Formal shirts are refined, crisp, and well-tailored. Let us make the most of them because they serve as the foundation of business casual attire. Wear yours with linen chinos, dark jeans that aren't ripped or bleached, a sweater, or an oversized trench coat. Pair casual shirts with a variety of micropatterns, stripes, or checks with plain, simple slacks to maintain an elegant appearance.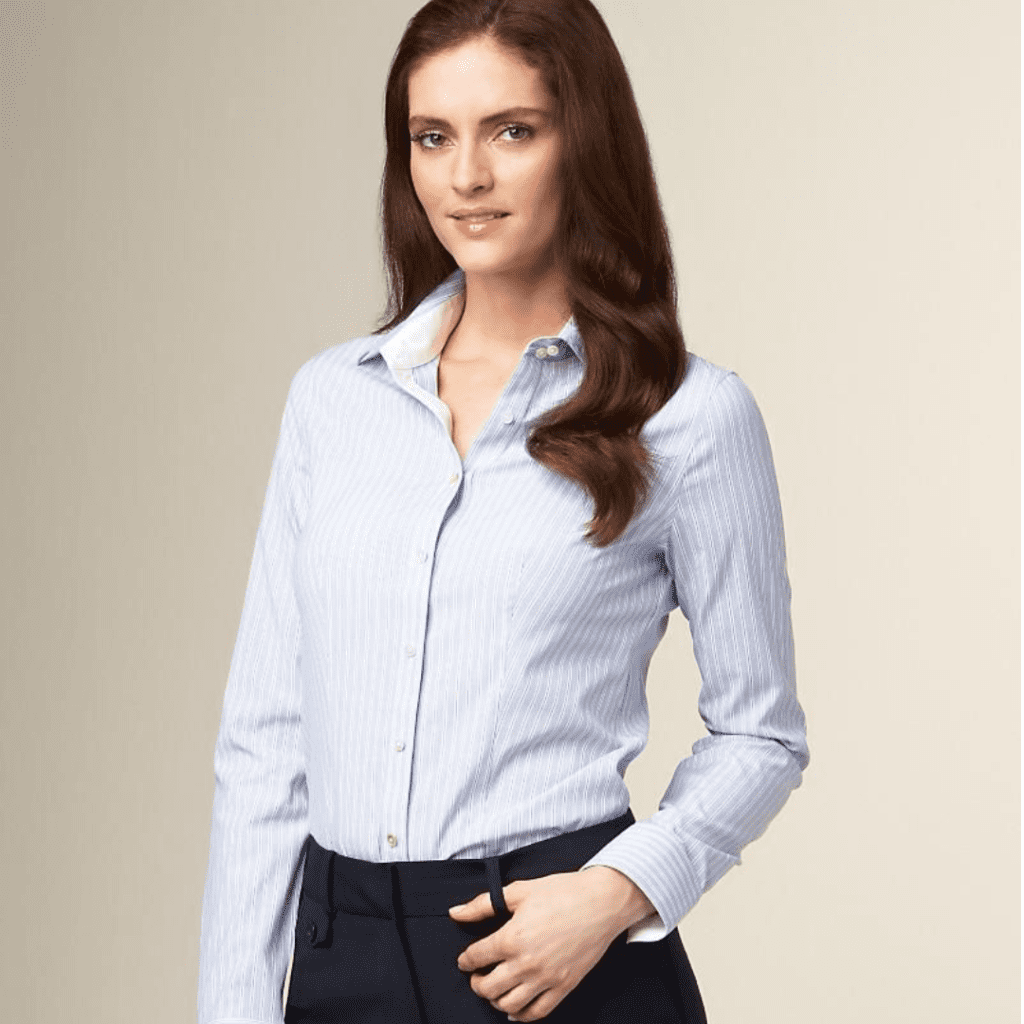 How To Accessorize Your Business Casual Outfit
Assuming you have the basic components of a business casual outfit (a tailored blazer, dress slacks or skirt, button-down shirt, etc.), there are several ways you can accessorize to put your own spin on the look.
One option is to add some jewelry. A statement necklace or pair of earrings can add just the right amount of pizzazz. If you prefer a more understated approach, opt for a delicate gold chain or simple stud earrings.
Another way to personalize your ensemble is with your shoes. Heels are always a classic choice, but if you want something a little different, try a pair of mules or loafers. And don't forget about colorful socks! They're a fun way to add a pop of personality to your look.
Finally, consider carrying a stylish handbag or briefcase. It's the perfect way to add a touch of luxury to your outfit and make sure you have everything you need for a successful day at work.
Conclusion
There you have it! The best business casual looks for women in 2023. We hope you found some inspiration from this article and that you'll be able to put together the perfect outfit for your next big meeting or presentation. Remember, the key to nailing business casual is to strike the right balance between professional and stylish. With these looks, you're sure to make a great impression.